HANDMADE ART
ALL ART IS CURRENTLY ON SALE UNTIL AUGUST 12, 2017. ACT NOW!
If you see something you'd like to have in your home, office, car, or alternate dimension, please email us at fuzzrociouspedals@gmail.com with your full name, shipping details, and payment method.
4″x4″ canvas paintings
by Shannon Ratajski
$25 $20
---
4″ x 4″ Canvas Paintings
$25$20
---
PRINTS
by Shannon, Kaeden (8), & Raeven (6) Ratajski
$10 $8
---
ORIGINAL ART & POETRY
by Shannon and Ryan Ratajski
PRICES ARE LISTED UNDER PHOTO
Click on a painting for a larger view.
Click on "DOWNLOAD PDF" to view the accompanying decoded poetry.
Scroll down to view Shannon's Artist Statement.
---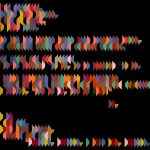 Untitled
Acrylic on canvas
47 x 56 in.
$500 $380 (includes shipping)
Please email us to purchase this painting.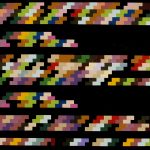 Ink & Venom
Acrylic on canvas
20 x 56 in.
$350 280 (includes shipping)
Please email us to purchase this painting.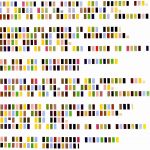 The Consistent Overdoser
Acrylic on canvas
58 x 74 in.
$500 $380 (local pick up only)
Please email us to purchase this painting.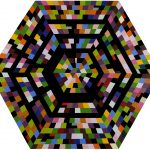 She Sings Only For Me
Acrylic on canvas
42 x 36 in.
SOLD!
---
Artist's Statement
The purpose of my work is to bridge the gap between writing and painting. I do this by color-coding writer, Ryan Ratajski's poetry and laying it out in a geometric pattern. I am mindful of the spacing and the punctuation in the writing, which is coded along with the letters. Poetry can be read or if read aloud be heard, but by translating the writing into paintings it can now been seen.
My color choice varies in every painting of this series. In the first three paintings they were chosen to bring out repetitions I noticed in the poetry, then to suit the mood of the poem, and last for aesthetic purposes. In the final three paintings of this series I used chance operations based on John Cage's performance pieces to determine my color choice with the assistance of dice to obtain a greater variety.
This is an exploration of the English language which reveals patterns and repetitions that may not be noticeable in the letters and writing upon first inspection. For example, the human brain may not process certain letter combinations or frequency of certain letters. Along with this idea, I am exploring the scientific fact that the human brain also does not process certain letters correctly when a person is asked to count, for example, all the F's in paragraph. Most people who scan through a paragraph will skip the letter "f" in the word "of" subconsciously. Will the viewer of my work do the same now that letters have become colors?
Using hard edges in paintings can often push away a viewer. With these paintings, I purposely allow the brush strokes to show to make it apparent that this work was completed by a human hand. There is a vast amount of relationships in both color and shape and with these elements combined, it makes these paintings inviting to a viewer.