OCTAVE JAWN DROP-IN MOD
MAY 30
Fuzzrocious hasn't been known to do many things the same way other companies do. This one is gonna buck the trend a little more and we hope that you'll believe in us.
The Octave Jawn is a polyphonic, digital, fast-tracking octaver. This means that it will track those arpeggios, complex chords, and noodles well. Yes, octavers are widely available, but where we turn left instead of right is that ours will be a drop-in mod.
Octave Jawn is $100 on new orders and $125 on preexisting Fuzzrocious products that you already own! Yes, it's a digital octave for $100!!!
BOTTOM LINE:
THIS SAVES SPACE ON YOUR PEDALBOARD AND IT'S CHEAPER THAN MOST OCTAVERS!
PHASE 1 ROLLOUT
RELEASE DATE – MAY 30
Grey Stache w/ Octave Jawn
$245
Cat Tail w/ Octave Jawn
$260
Demon w/ Octave Jawn
$255
Demon King (gate/boost + octave jawn OR feedback + octave jawn)
$280
Order starting on May 30 at http://fuzzrociouspedals.com or from one of our wonderful dealers/stores.
Demo by Merrow Visuals: HERE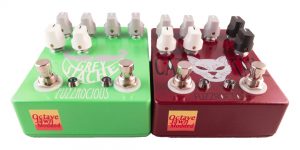 Official demo on GUITAR: HERE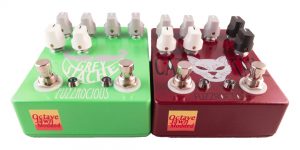 Official demo on BASS: HERE